Matching a genset to power needs is critical to making the right purchasing decision.
Prime or Standby power applications have different criteria.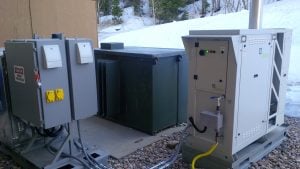 Factors to consider are:
Single or three phase
kW
KVA
AC or DC or both required?
Standby or motor starting duty required?
Maximum step loads required?
Grid tie-in required, or is this for site-micro-grid?
To help us determine the right size:
make a list of item s that need to be powered
make an additional list of starting as well as running Watts of each item (typically on the identification plate on the item or the manual)

many items may be expressed in Amperes to to this page for calculating your needs

Add these columns for total running and starting requirements.
OilPro specializes in remote site medium power requirements where TEG and fuel cells become less economical but reciprocating units and commensurate maintenance are not justified.
Typically this means we have better solutions in the 20 Watts to 15kW range in locations where fuel gas or Propane is available using our Stirling engine SmartGen.
Call for more information at +1403 215-3373.