Spring 2019
This is a common scenario these days in the energy industry of today:
The project AFE is approved after passing through many decision gateways. The CFO has the books in survival mode, and directs to spend as little as possible. After all, these are tough times and there are deals out there from desperate sellers and auctions. It's a buyer's market, and everything is cheap, whether it's new, new surplus, field run and scrap.
Which choice offers the best value, keep you in line with AFE expectations, and what are some of the factors to consider to keep you, the person in charge of building and operating facilities employed in the long run?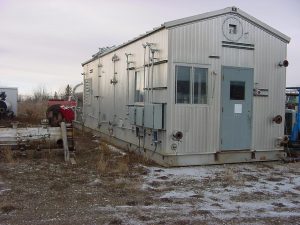 Questions to ask and risks as they relate to various types of equipment:
Universal checks:
Will I need drawings?

What drawing format (actual vs PDF/DWG) do I need/can I work with?

If used:

Are equipment operations records available?

If new surplus:

Does the original manufacturer still honour the warranty? (most don't 18 months after delivery)
Will you have a shop test all piping/instruments and control or do you have a good field crew to do this?
Is the current package compliant with current regulations, such as: CSA Burner management
Secondary containment requirements
Is the code it's built to still valid?
Equipment-specific questions
Tanks
What is the min/max volume I need to be able to store
Think about diameter as well as containment requirements, i.e. berm-style secondary containment or dual walled tank
What fluids are stored? Tanks containing water or other corrosive fluids are typically coated.If coated, is it holiday tested?
If not coated, and has contained Hydrocarbons, coating with a good warranty (not just material cost) is likely not an affordable option.
Some tanks need freeze protection. What energy source is available and compatible with existing tank?
If high GOR (Gas/Oil Ratio) fluids will be contained:

Is the tank capable of being anchored down to a skid to manage the high required design pressures?
will I need a VRU?

How does tank Max. Design Pressure affect VRU HP requirement?

Are there blanket gas provisions?

What are the nozzle sizes I need?

Is a make-up gas supply connection available adequate to keep up with today's high-volume pumps?
Are connections in the right locations for my facility design?
If nozzle load calculations are required, original as-builts are likely needed.
 Notes:
If insulated, the tank cannot be positively confirmed to be leak free with an air/soap leak test as the insulation will cover the shell
Retrofitting nozzles on coated tanks can get expensive depending on time of year and duty requirements
If heating with coils, fire tubes or vault is being retrofitted, can supports be built/accessed? Will coating repairs be needed?
Re-coating in cold weather can get very expensive due to mobilization costs and need for controlled temperatures and humidity (hoarding).
Separators/process towers/treaters/FWKO's/line heaters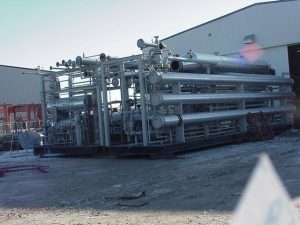 Has the wall thickness been checked by an independent party?
If the equipment has fired components, have these been magnetic particle tested?
If coated, has it been inspected/repaired? Are passive/active cathodic protection options available?
What will regulatory bodies require us to be able to present in terms of:

Pressure Vessel Data Reports (u1a's)
Piping drawings and calculations
General arrangement drawings
Civil drawings and calculations
Process design considerations for sweet/sour etc.

Instrumentation, pumps and controls:

Will the existing instrumentation venting system be allowed?
Are PSV settings up to date and does the trim match new process conditions and has fire sizing been done?
Are the vent rates of instruments known
Will the venting of the instruments, pumps and controls cause the company additional methane emissions reporting and tax burdens?
Are instruments function tested, parts rebuildable and components available?
Are packings intact and in good condition?
Pumpjacks
What is the make, model and size I need?
If I find the right gearbox, structure and stroke length, is the brand I found serviceable?
What effective counter balance do I require and what comes with the unit I'm considering?

How easy are additional crank weights to find?

Do I need a high mount (electric) or low mount (gas) system?
Will I need a piling pad/gravel pad/tie downs/VFD/Pump-off Controller/driver/engine/scrubber?
Is there a warranty from the seller? (how long have they been in business and will they be in a year?)
Are all the bolts and fences there for setup at the new site?
Will they load the jack and are you obliged/allowed to take the concrete pad?

Is the pad welded to piles and will I need a welder?
Are the rails pulled out, and are the tie-downs a match for the rails I have at the new site?
Can I haul the concrete and the jack on the same truck?
Are there road-bans?

Did the inspector just make a bunch of check marks or did they:

Note serial numbers for both structure and gear box
Gauge structural and gear box bearings (and remove seals and replace seals)
Check gear lash?
Check the bull gear with the crank arms up? (This is where usually the most wear is found).
Check the wireline cable?
Check if all the crank arm holes useable, are any sleeved?
Check the paint condition?