Innopipe is a patented, proven technology that provides inline gas system liquids removal. Piggable and non-piggable versions are available in sizes ranging from 1″ through to 60″. Innopipe also provides slug management systems that integrate with Innopipe drip and pipeline systems.
Let's take a closer look at why you should consider Innopipe and what it offers.
What you need to know about Innopipe
Innopipe efficiently separates liquids especially at transmission velocities in all gas systems, including:

transmission lines (corrosion prevention, slug/liquids removal)
downstream of process towers or vessels (glycol/amine removal)
dowstream of compressors (lube oil removal)
upstream of sonic measurement equipment

Process disturbes the least amount of gas required, resulting in lower energy losses, thus reducing booster compression needs.
95% of primary gas stream is liquid-free and passes through the separator untouched, creating minimal turbulence
Liquids are easily removed from the system's smaller secondary flow and cleaned gas is recombined downstream
Pigs can move through the Innopipe
Innopipe systems can be optioned with proven solids removal systems in the liquids collection reservoir for removal of

formation silica
black powder
hydrogen sulfide
mill scales
Introduction
Natural gas transmission pipelines often contain liquids that interfere with the operation of the pipeline and related equipment such as compressors, regulators, filters, meters and valves. The liquid contaminants normally include hydrocarbon condensations, lubrication oils, produced water, and chemicals used in production, treatment, compression or dehydration of gases. Also commonly found are agglomerations called "Black Powder", a combination of any of mill scale, silica, corrosion product, or Iron Sulfide.
Traditional "drips"
Gas transmission pipelines have typically used below grade liquid separators known as "drips" that are installed in the pipeline at regular intervals to collect the liquids carried in a gas stream. These drips that are currently in use are not effective at transmission velocity gas flows as they must be designed to allow passage of a tool called a Pipeline Inspection Gauge (PIG). 
The problem
The piggable drip designs would capture only liquids which flowed along the base of the pipe (low velocity stratified flow) while liquids flowing on the outside of the pipe wall (as in high velocity annular flow) would bypass. Conventional separation equipment has the unfortunate side effect that they create a lot of turbulence which requires them to be larger and have ever-more sophisticated internals. Furthermore, they start to carry over liquids at higher velocities. In additon, conventional slug catchers and separators are necessarily large as they require longer settling times and slug capacities. Innopipe does not have to deal with these issues, is smaller and more efffective!
The solution
The new Innopipe Piggable Drip has been developed to be both piggable and efficient at liquids separation even at transmission gas velocities. The Innopipe Piggable Drip utilizes a patented process where an annular gas stream separation technique is used to remove all the liquids with the least amount of gas and is successful at all gas flow stream velocities. As the Innopipe is smaller, it costs less, is quicker to build and as a bonus causes lower horsepower losses in the system.
The advantages
The distinct advantage of annular flow separation is that only a relatively small secondary flow is required to be interrupted, and yet all the free liquids in a gas stream are removed.This allows the Innopipe Piggable Drip to maintain high separation efficiency even at maximum gas flow rates (when liquids are more likely in motion). As pipelines experience higher flow rates, traditional drips are bypassed and conventional separators cannot slow the primary gas stream velocity sufficiently.
The results
The Innopipe Piggable Drip design eliminates the need to reduce the flow rate of the primary gas flow and the result is significant savings and piping and vessel size requirements.The design is also easily piggable when the secondary flow is interrupted and is fully bi-directional, which is a special consideration for gas storage system operators.
The Innopipe Piggable Drip is the proven standard liquids separation removal device in use since the mid 1990's for the natural gas industry as a transmission pipeline drip and offers an efficient and cost-effective alternative to conventional well stream separators. The Innopipe Piggable Drip design represents a significant milestone in applied liquids separation technology for natural gas producers, pipeline and compressor station operators.
Innopipe projects in pictures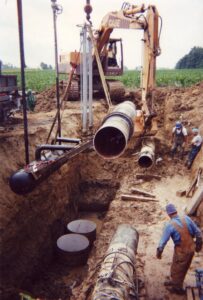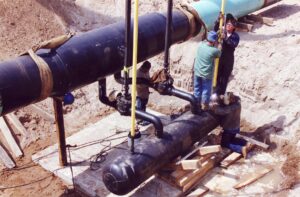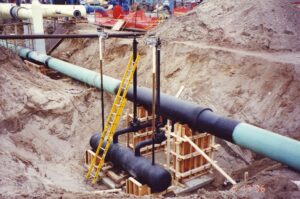 Call OilPro now at 403-215-3373 or send us an email at [email protected] to discuss how Innopipe can benefit you.
If you'd like to read more about exactly how Innopipe works, click here for a more complete explanation.