When choosing a remote power system, you have a number of decisions to make but the type of engine that powers it is at the top of the list for a number of reasons. You need one that is reliable, fuel-efficient, low on maintenance and quiet among other options.
The question is which one do you select?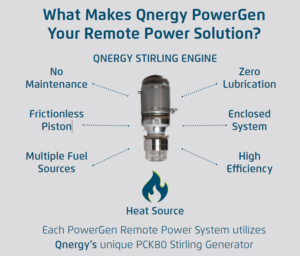 Let's take a closer look at the Free-Piston Stirling Engine and why it's something to strongly consider when choosing your remote power system.
What is a FPSE?
A Free Piston Stirling Engine (FPSE) is an energy conversion device that can be used in a number of ways that is more efficient than a typical internal combustion engine.
More specifically:
"Free-Piston Stirling Engines (FPSEs) have recently attracted attention as a promising energy conversion technology because of their desirable characteristics such as high efficiency, high reliability, and easy and quiet operation. FPSE are truly a closed cycle system that works using variations in the internal pressure to drive the power piston that is connected to the reciprocating magnets in a linear alternator for energy conversion." (Source: Intechopen)
Enter the PowerGen from Qnergy. Qnergy introduced proprietary thermal electric genset design features architectural reliability of the Free Piston Stirling Engine.
The unique heat exchanger design combines within the harmonically resonating thermo-mechanical structure for exceptional energy efficiency.
How does it work?
The PowerGen transforms heat into electricity with linear alternators. The PowerGen incorporates Qnergy's design breakthroughs resulting in an exceptionally reliable, long-life, maintenance-free, and quiet electricity generating platform.
The FPSE system when heated at the absorber, transforms any flow of heat into a steady output of electricity.
These same generators are packaged into PowerGen's energy products, which adapt to a variety of fuel compositions to generate grid-quality electric power for remote facilities with critical infrastructure.
Increasingly, PowerGens find a place closer to existing electrical infrastructure due to their reliability and because they can be configured and installed faster than power contracts and poles can be.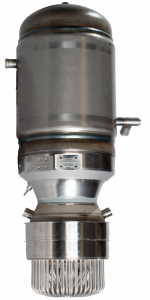 What are the benefits of a remote power unit with a FPSE?
The ultra efficient PowerGen generator runs on Natural Gas, Propane and Biogas and comes with a Qnergy Free Piston Stirling Engine design so you have a wide choice of fuels depending on your preference.
It features low operating costs, environmentally-friendly emissions and produces a lower noise level compared to combustion engines.
FPSEs are also known for having very high reliability and efficiency with no reciprocating engine.
The PowerGen also features a zero maintenance and zero oil change engine.
Where can remote power be used?
Remote power generation can be used in a wide variety of industries and applicaitons.
For both mission-critical applications like power back-up or automation & controls or a required business service like telecommunications, onsite power generation can power whatever you require when your remote location would otherwise be a problem.
Our article titled Where Can You Use Remote Power (8 Applications) can help you learn more about how customers typically use remote power and why it's often a necessity when local electricity isn't available or just isn't cost effective.
Summary
If you're on the look out for an onsite power generation solution, we can help.
Visit our PowerGen page to learn more or call us directly at 403 215 3373 or contact us by email at [email protected] for more details.
Also, check out this short video below to view an install of a PowerGen offering thermal power generation along with descriptions of how the system works.