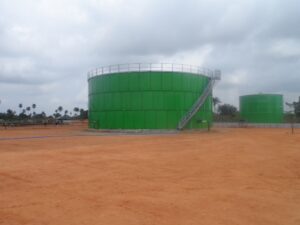 Bolted tanks offer an excellent alternative for storage of liquids and dry goods in locations where welding and/or coating tanks in the field is either impossible or prohibitively expensive. The main things standing in the way of field-coating is that most coatings require both controlled temperatures and controlled humidity. As the greatest portion of the coating cost is incurred at the preparation and application stages, and warranties only cover materials, all parties are best served with a by-the-book application.
If you live in an area where skilled welders are hard to find or very expensive, erecting a tank can be a major and costly challenge. Similarly, if you live in a region that tends to be humid, it is difficult to optimize applications conditions. In humid climates, t is now uncommon to have a freshly blasted tank blush within fewer than 24 hrs, requiring a reblast before coating can be applied. Therfore, if a tight schedule and an absolutely dependable coating application are critical, bolted tanks should be considered.
Why you might need a bolted tank
Bolted tanks are an excellent fit for applications where vapours from stored fluids tend to be at lower pressures. Modern VRU (Vapour Recovery Unit) systems with remote electronic pressure sensors provide the ability to monitor tigh pressure bands without the delays pneumatic sensing systems might have had.
Bolted tanks offer many advantages to address the concerns of traditional storage tanks referred to above. OilPro's applications engineering team has experience designing and building bolted tanks around the world from Canada's colder climates to hot humid, logistically challenged locales in Africa.
With new popular projects such as biofuel projects coming on stream, OilPro is a perfect fit for your bolted tank needs.
We export bolted tanks to other areas of the world too, often where qualified welders are either not available or unwilling to travel to. We provide clear, poster-sized instructions for use on the work site and a clear drawing set prior to delivery. In addition, we can provide complete turn-key containers to go along with containerized shipments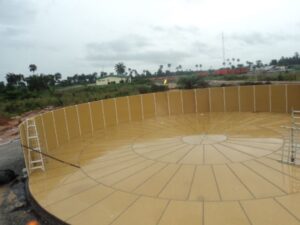 Bolted tanks advantages
API 12B design that is well-suited to low pressure low-volatiles applications such as water storage.
Engineered tank for oil storage with a modern VRU with electronic pressure monitoring where mitigating tank venting to atmosphere is a consideration.
Can be field-erected by unskilled labour. A huge benefit if qualified welders are expensive or hard to come by.
Eliminates the need to coat in the field as panels are coated in the factory. It's very important in humid environmens or cold areas where creating controlled coating conditions is challenging and expensive.
Can be shipped in modules inside sea containers to get to any destination.
Come with complete assembly drawings and simple instructions.
Assembly tool kits option available.
Can be designed and built to withstand corrosive environment easily.
Short delivery times. (sub 2 months after drawing approval, often less time, even on coated tanks)
Summary
Contact us at [email protected] to learn more about your bolted tank needs or give us a call at 1-403 215-3373.
Want to learn more about bolted tanks? Check out main Tanks page to see examples of our inventory and qualifications and check out this article called What Is A Bolted Tank if you'd like to take a step back and learn more about bolted tanks and how we design and build them.