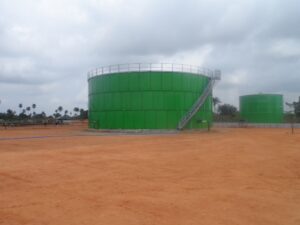 What is a bolted tank?
Bolted tanks offer an excellent alternative for storage of liquids and dry goods in locations where welding (no skilled labour or difficult environment) or coating tanks (hard to control humidity or temperatures) is either impossible or prohibitively expensive. 
What is a bolted tank used for?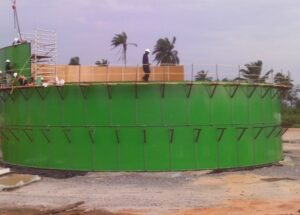 All of our storage tanks are equally suited for various applications such as the storage of potable water, wastewater, water for fire protection, crude oil, irrigation water and dry bulk material.
Our bolted steel tanks are MANDATED by the AWWA D103-09 standard not to leak as there is a ZERO leakage allowance.
Bolted tank design and construction
Bolted tanks are an excellent fit for applications where there is not likely to be vented vapour from the stored fluids. To ensure our bolted tanks do not leak, we install preformed gaskets between the staves.  While other bolted steel tank companies use a putty mastic to try to seal their tank, we use precision punched gaskets.
Our gaskets are available in various materials specific to the application; EPDM for water storage and Buna-N or Viton for oil and other petrochemical applications. As the gaskets are comprised of durable synthetic rubber, they remain pliable for decades and will not crack or peel. 
Also, the flexibility of the gasket ensures that if a tank should experience a leak, the bolts can easily be tightened correcting the problem.
Our proprietary coating process
Every square centimeter of our bolted steel tanks are factory powder coated to protect against corrosion.  All of our powder coated tanks are pre-finished. By applying the coating to the individual tank components before the tank is erected, we are able to seal hard to reach places such as the underside of the tank bottoms and the top of roof rafters.
In critical areas such as panel edges and bolt holes, two layers of powder coating are applied for additional protection. To permanently chemically and physically bond the coating to the steel, the coating is heated in large ovens. We found a powder coated finish will last at least as long if not longer compared to liquid coatings used on welded tanks. Our powder coating is applied using an automated processes under tightly controlled conditions resulting in a high quality and a controlled environment defect-free coating.
Conversely, with welded steel tanks, the steel is prepared and coating is applied in the field leading to highly variable levels of quality. Welded steel tanks are sandblasted by hand and therefore are reliant on the skill and training of the human operating the equipment. Weather conditions during the coating application can negatively impact the coating lifespan.
If the humidity level is too high and the coating is not applied directly after sandblasting, flash rust can occur preventing the coating from achieving full adhesion strength. If breezy conditions exist, the steel surface is too hot or ambient temperature is too high, the coating will dry before contacting the steel or will cure too fast.
In addition, the liquid coating formula can vary from project to project which will impact the coating longevity. The skill and training of the person applying the coating will also affect the coating.
Factory powder coating is immune from these potential issues.
Benefits of a custom bolted tank from OilPro
The main advantages are of a bolted tank from OilPro as are follows:
API 12B design
Well-suited to low pressure low-volatiles applications such as water storage
Engineered to API 12B guidelines
Can be field-erected by less-skilled labour
Eliminates the need to coat in the field as panels are powder coated in the factory to a higher 
Very important in humid and also very cold places where creating ideal coating conditions is challenging
Can be shipped in modules inside ISO sea containers (a.k.a. seacans) to get to any destination
Come with complete assembly drawings and simple instructions
Assembly tool kits option available
Can be designed and built to withstand corrosive environment easily
Short delivery times are available
Our bolted steel tanks are pre-fabricated and tank components fit well together to eliminate onsite rework and modifications.
No hot work such as welding and grinding is required, so much less PPE gear/protocols are required.
The quality of raw materials; precision of the manufacturing process and company experience and annual API Q1 / ISO 9001 ensure top-quality, repeatable results.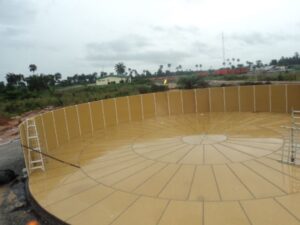 Preparation work typically required
Also, ASME welders with current certification do not have to travel to the job site on a daily basis and the need to x-ray welds which is not required as it is with welded tanks. 
This also eliminates the need to wait until weather conditions (temperature, relative humidity level, dew point, predicted weather during drying time, etc) are just right before applying the coating. 
As our powder coating is cured almost immediately, the tank can be put into service right away as it is not necessary to wait until the solvent has evaporated and the paint has properly cured. 
After three decades in the storage tank industry, we have discovered assembling the bolted steel tank on the job site is faster, easier, more accurate and provides a longer life span compared to completely fabricating a steel storage tank in the open elements.
OilPro supplies custom engineered bolted tanks to your specifications
If you need a custom bolted tank, OilPro can help. We've exported tanks to countries like Nigeria and Albania to date and we also distribute bolted tanks for Superior Tanks in Rancho Cucamonga, California. 
Call us directly at 403 215 3373 or contact us by email at [email protected] for more details.