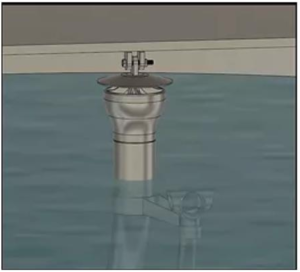 Do you have large or floating roof tanks and have issues with vapor removal?
This post will discuss the issues and concerns that larger and floating roof tank owners have and how the XTT (Xtreme Tank Technology) tool from OilPro can alleviate and resolve these issues.
What is a floating roof tank?
As the name would suggest, floating roof tanks have a roof that floats up and down with the liquid level.
A floating roof tank is ideal for storing volatile liquids like oil, gasoline, aviation kerosene, diesel oil, crude oil and other light oil products.  
The benefit?
Since the roof of the tank can float up and down with the level of the liquid it is storing, the head space between the top of the roof and top of the liquid is minimized.
As a result, the evaporation loss of stored oil is significantly reduced.
Plus, a floating roof tank reduces air pollution along with the risk of fire and explosion, both a major concern for tank owners.
Floating roof tank fire protection
In floating roof tanks, the fire foam will be released in the sealed area of the tank, on the underside of the roof thus enabling it to protect the tank seals as well. Protection of the seal means the system can mitigate further flame propagation beyond the seal, in addition to helping with flame containment.
This XTT tool position in floating roof applications will remove the chance of sinking a floating roof because the tool places fire foam under the floating roof rather than on top.
In the process, the tool separates fuel from flame in addition to cooling the space with the aid of the fire foam.
· The patented XTT tool removes vapour underneath a floating roof tank.
· Most floating roofs have vapour disengaging space, as floating roofs generally do not sit directly on the oil. If your FLIR data shows there are tank emissions, we have a retrofit solution that removes gas before it escapes from the floating roof seal.
· We place fire foam under the floating roof to separate fuel from flame.
· We protect tank seals by applying foam directly to the seal mitigating fire damage to seals, preventing breach of the seal by flame in conventional installations.
· The XTT system collects gas prior to volume and pressure build-up, minimizing chances of roof seal leaks, thus mitigating outcomes.
· Atmospheric vented can be completely stopped.
Contact OilPro Directly About XTT
The Xtreme Tank Technologies tool offers three main benefits for floating tank owners:
1. Vapour Removal
2. Oil skimming, and
Contact OilPro directly to learn more about the XTT tool from OilPro. Call us at 403 215 3373 or by email at [email protected].