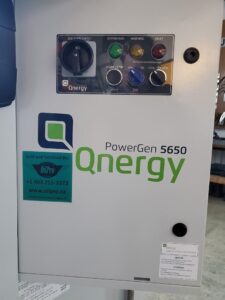 PowerGen is an ultra efficient remote generator that runs with critical reliability on natural gas, propane, ethane and biogas.
It comes with Qnergy's Free Piston Stirling Engine (FPSE) design. PowerGen has an industry-best lifetime low operating costs, environmentally-friendly emissions and much lower noise levels compared to combustion engines.
OilPro has distributed and serviced the PowerGen since CSA/Intertek approval in 2017.
Qnergy introduced the proprietary thermal electric genset design features architectural reliability of the FPSE. The unique heat exchanger design combines within it the harmonically resonating thermo-mechanical structure for exceptionally reliable energy efficiency.
The PowerGen transforms heat into electricity with linear alternators. PowerGen incorporates Qnergy's design breakthroughs resulting in an exceptionally, long-life, maintenance-free, and quiet electricity generating platform.
The FPSE system, when heated at the absorber, transforms any flow of heat into a steady output of electricity. These same generators are packaged into PowerGen's energy products, which adapt to a variety of fuel compositions to generate small scale grid-quality electric power for remote facilities with critical infrastructure.
Increasingly, PowerGen's find a place closer to existing electrical infrastructure due to their reliability and because they can be configured and installed faster than power contracts and poles can be.
Plus, PowerGen operates in extremely cold and hot conditions. 
Finally, PowerGen performs extremely well in reducing methane emissions as shown in a recent landfill waste gas project.  
Want to learn more about Qnergy's PowerGen from OilPro for your remote power needs? Call us at 403-215-3373 to discuss your specific needs or drop us an email at [email protected].