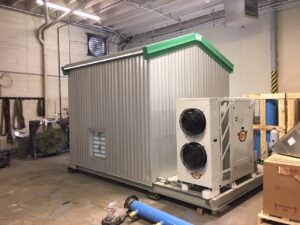 OilPro is an authorized distributor for the PowerGen by Qnergy, the logical choice for cost-effective, reliable and easy-to-maintain remote power. While oil & gas applications are the widely adopted already, PowerGens already benefit these applications as well:
Specifically, PowerGen remote power is highly useful in the Railway, Communications/signaling and Oil & Gas sectors as we'll see below:
Railway
-Signaling
-Communications
-Cathodic protection
Communications/signaling
-Military signaling /communications applications
-Powering for telecommunication towers and BSC and MSC
-Emergency communications systems such as Coast Guard, remote airports
-Disaster Support (emergency power stations)
-support for SCADA for LAN networks in areas with poor cellular coverage
-Helicopter communications
-Vapour Recovery Units (VRU's up to 5 HP)
-instrument air with CAP3 systems  (11 SCFM at skid edge + min/max 1,000/5650 W, 60-90 low bleed instruments per skid with compressors running 1/3 of the time in practise)
-Chemical pumps (electric and pneumatic) (10 gpm for 1,000-3,000′ or  2-5 gpm for 5,000′ well)
-SCADA/ Measurement/ equipment monitoring
-Security and surveillance and lighting
-Impressed Current Cathodic Protection (ICCP)
-Well pad automation
-Valve control
-Instrumentation, control and metering for pipelines and well-pads
-Load-following site and pipeline cathodic protection ICCP (Impressed Current Cathodic Protection)
-Analytics
-Heat tracing with optional GHT system (1,500-2300' glycol, up to 60,000 BTU and/or electrical heat tracing)
Summary
PowerGen is a fit for your operation when:
Continuous power (and/or heat) are critical to your operations and safety systems
Your power needs lie between 400 and 11,000 Watts
Solar alone may not be an option due to less solar gain, vandalism/theft of solar/batteries, or cost of transport of batteries
You tried hybrid conventional generators, or fuel cells and found reliability wanting
TEGS don't deliver the Volts of Watts you require
Maintenance is expensive or difficult to achieve in short order
Total lifetime carbon footprint is a consideration
Total lifetime cost of ownership is important
Fuel consumption is a consideration
Process heat is critical in addition to power (i.e. flow line heat tracing, propane vaporization at low temperatures)
Access to fuelling/servicing for the site is sporadic
Contact OilPro at 403 215 3373 or by email at [email protected] to discuss our entire PowerGen lineup.