OilPro is Canadian distributor for Qnergy's PowerGen, the reliable choice to provide electrical power for your mission-critical applications in remote environments regardless of the weather conditions you face.
Replacing traditional generators, PowerGen offers a number of high level advantages to owners:
Can run on multiple fuel sources including natural gas, propane, ethane, biogas and multiple associated gas streams.
Has a long operating life.
Is low maintenance due to its Free Piston Stirling engine.
Has a small carbon footprint.
Generates power at a lower cost than traditional gensets.
Is a sustainable power option.
How does PowerGen offer these and other advantages that traditional gensets can't match?
Qnergy's Free Piston Generator in the PowerGen from OilPro
PowerGen is powered by a Free Piston Stirling Engine (FPSE) which offers a number of inherent advantages. It requires no lubrication, no oil changes or repair since they are a closed-cycle and frictionless system. 
While we have summarized some of the high level benefits of PowerGen above, it's worth taking a different look at benefits from a design perspective.
The graphic below highlights some of the more technical aspects of PowerGen, namely advantages due to its design.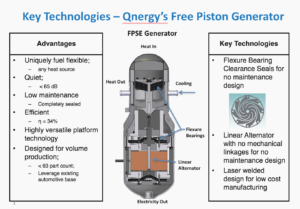 PowerGen's no maintenance and oil change-free design is ideal for your mission-critical system requiring 100% uptime. The last thing you want is to find that you can't rely on your remote power option due to failures or frequent routine maintenance requirements.
PowerGen operates in the coldest and hottest environments. From -40°C to +40°C, PowerGen handles the worst Mother Nature throws at it.
What is PowerGen used for?
Here is a short list of some of the most popular applications for PowerGen capable of providing up to 5650 W continuous power with load-folliowing capability.
Methane emission mitigation
Cathodic protection
Biogas to electricity production
SCADA power
Automation & controls
Remote micro-grid
Power backup
Telecommunications
Final thoughts
The Qnergy PowerGen from OilPro is the cleanest burning, lowest maintenance choice for remote critical power needs at sites requiring 100% up time. If you have remote, harsh weather environments that reciprocating gensets simply can't keep up with, you'll be pleased to know that PowerGen operates in the coldest and hottest weather just the same.
If you'd like to learn more about PowerGen we encourage you to pick up the phone and call OilPro at 403 215-3373 or contact us by email at [email protected].
Feel free to also check our dedicated PowerGen page to view more technical specs and benefits.