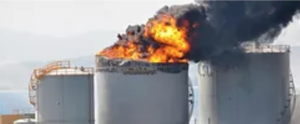 The Patented Xtreme Tank Tool (XTT) solves RVP (Reid Vapor Pressure) issues. The XTT captures the full spectrum of gasses from the heaviest to the lightest that traditional roof/vapor tower collection do not collect.  
The tool takes pressure measurements in the flash zone as well as remove the emissions when they occur in the "Flash Zone" of the tank.  
This enables total carbon capture, even the heavy gasses that a roof pull or a vapor tower misses.  
This increases the total volume of gas removed and increases your gas energy density.
This same patented technology, because of where it sits in the "Flash Zone" of the tank, extinguishes tank fires in seconds. This is done automatically using an infrared camera to detect fire. 
We can provide the tool to connect to your preferred CAF (Compressed Air Foam, typically using CO2) system, or provide turn-key solutions.
If lightning, static, arson or a mechanical failure cause a fire, the camera (your preferred system or provided by us) will detect this, and cause a programmed release of self-stored fire foam. The fire foam is released in the tank covering the surface area rapidly. The foam enters the tank internally and is placed in the exact correct spot a few inches above the oil, extinguishing the fire. 
How the XTT works
The Xtreme Tank Technology tool changes the tank's total atmosphere from flammable to inert.  
For periods of maintenance or for approaching storms, we can release nitrogen from the tool in the flash zone a few inches above the oil and purge the tank, changing the atmosphere of the tank.  
Aside from aiding total carbon capture, the tool is placed perfectly for use in tank fire extinguishing. The tool may be considered a type one fire tool as there is zero splash when fire foam is released. Every gallon sent up ends up inside the tank with no loss from wind carrying fire foam away.  
The fire foam never travels through the flame's temperature like it would in foam chambers.The fire foam will be 100% efficient upon arrival at the release point and be un-distorted by fire like it might be with other types of suppression systems placed directly in the fire. 
When a tank catches fire, a fire eye or FLIR system observes heat and/or flame, sending a signal to a solenoid that opens a valve of stored Compressed Air Foam (CAF) systems. The foam is pneumatically pushed with a typical 450 pounds of nitrogen pressure, sending the fire foam where it has the best effect, completely extinguishing the fire before floating roof seals fail or a frangible roof releases or relief valve pops.
Contact OilPro directly at 403-215-3373 or by email [email protected] to learn more about fire suppression using the Xtreme Tank Tool. 
You can also read more about the XTT by clicking here for photos and an explanation of how it works.