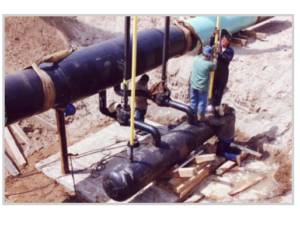 Innopipe is OilPro's unique inline gas separator and piggable drip system that produces a primary gas stream that is 99%+ liquid-free.
What makes Innopipe so special?
Innopipe's patented process uses an annular gas stream separation technique to remove all the liquids without interrupting or changing the flow pattern.
Cleaner natural gas supplies makes for cleaner energy production and allows everyone to breathe a little bit easier.
And for the pipeline operator, it is a cost-effective alternative for natural gas liquids removal.
Below is a more complete list of Innopipe benefits.
Innopipe advantages:
Can be used in any application where liquids need to be removed from gas streams.
Allows unrestricted passage of cleaning and inspection pigs.
Used for piggable or non-piggable styles for above and below grade installations.
Uses a smaller footprint than conventional separation techniques.
Can be installed on pipelines or added to existing natural gas processing systems for capacity/efficiency improvements.
Bi-directional capability means costly bypasses and valve arrangements are not needed on storage cavern applications.
Available for sweet and sour gas applications.
Works with low pressure drop (less than 1 psi).
More cost-effective than conventional separation techniques, especially on high pressure and large diameter pipelines NPS 24 to NPS 60.
Tested in labs and in the field with over 100 installations world-wide.
Complete liquids removal significantly reduces risk of pipeline corrosion.
Innopipe Uses Are Numerous
Innopipe has many functional applications including:
• Compressor protection
• River crossings and low points
• Upstream of ultrasonic flow meters
• General Pipeline liquid removal
• Slug control and management
• Cavern storage liquid removal
• Compressor lube oil removal
• Production separators
• Black powder prevention/reduction
Innopipe Used In 52″ Fuel Gas Lines
One example of Innopipe in action is its use on 52″ fuel gas lines to remove liquids upstream of sonic metering systems to improve both accuracy and gas quality. It reflects the increasing importance and prevalence of natural gas over other fuel sources like coal and oil to produce electricity.
In fact, Middle Eastern countries as well as countries like Japan, Russia and Thailand are already using cleaner burning natural gas over oil in this regard.
Click here to view an article that show which Asian countries have already switched from more polluting sources like coal and gas to natural gas to produce electricity.
Our engineering expertise allows us to build and implement this Canadian technology in-country, thus blending local manufacturing and logistics requirements with Canadian exports.
Innopipe Installations are Global and Varied
Innopipe has installations globally in the Middle East, Eastern and Western Canada and in the Eastern United States.
Click here to view a gallery of Innopipe installations including in-bunker and inground installs that illustrates its flexibility in terms of configuration type.
Many of these were installed in underground bunkers and blend pipe spec for the piggable drip, and ASME Section VIII div. 1 vessel spec for the collection vessel.
Ready to learn more?
Contact OiPro directly at 403-215-3373 or by email at [email protected] to learn more about Innopipe's potential for you.