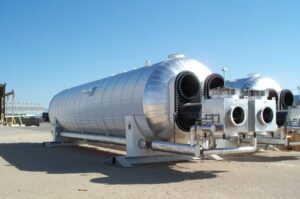 Are you looking for a reliable and trustworthy supplier for your oilfield equipment needs?
Since 1947, Sivalls, Inc. has designed and manufactured onshore and offshore oilfield equipment for oil and gas producers. By maintaining the highest engineering, manufacturing, and field service standards over the years, Sivalls is a supplier of global importance.
OilPro is proud to be Sivalls' Canadian and Middle Eastern distributor and we carry a wide range of their products. In fact, Sivalls manufactures equipment commonly used by oil and gas producers including: 
Separators
Treaters
Free water knockouts (FWKO's)
Indirect heaters (Line heaters)
Gas production units
Dehydration units
Gas and water treating equipment
Water bath heaters
Salt bath heaters
Metering equipment
Sivalls' business model involves asking their customers to specify the desired results and Sivalls' engineers and designers specify the best approach in response.
Check out the short video below to for some animated demos of Sivalls' products in action.