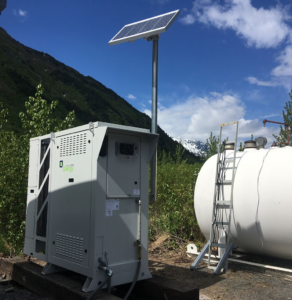 We recently came across an article on the ENERGYMinute website that discusses a pertinent topic for anyone in the oil & gas business:
The use of propane in remote northern Canadian communities to provide "safe, reliable energy."
As Canadian distributor for PowerGen's lineup of remote power generators, we can attest to this fact. Propane-fuelled PowerGens are successfully operating in remote northern Canadian communities like northeastern British Columbia near the Northwest Territories' southern border.
When it comes to emissions, propane is a cleaner-burning fuel compared to diesel, producing significantly fewer greenhouse gas emissions, including CO2, NOx, and particulate matter.
Propane is also considered a low-carbon fuel source, which means it contributes less to climate change than diesel. In contrast, diesel produces high levels of greenhouse gas emissions, including CO2, NOx, and particulate matter, which can have negative impacts on both human health and the environment.
Propane Performs Exceptionally Well in Cold Climates
Propane is a reliable fuel source for cold climates, as it maintains its performance even in extreme cold temperatures. Propane's low-temperature boiling point (-44°F/-42°C) means that it vaporizes quickly and efficiently, even in sub-zero temperatures.
In contrast, diesel fuel can become thicker and more viscous in cold temperatures, which can cause problems with equipment and lead to reduced efficiency. Propane's ability to perform well in cold climates makes it a popular choice for heating systems and other equipment that is used in colder regions.
As we spoke about recently on Linkedin:
"Previously valid concerns about propane tank's ability to deliver gas in ultra low temperatures are moot with OilPro proving 30,000 hrs of continuous power with the Qnergy PowerGen on propane fuelled power systems in NE British Columbia, just below the NWT border. We achieve this with the GHT (Glycol Heat Trace) system which captures the Stirling engine's waste heat and circulates programmable temperature glycol loop heat to maintain propane bullet temperature."
Propane vs Diesel Comparison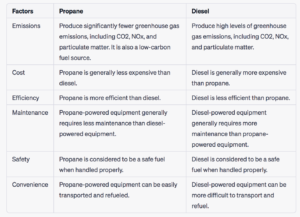 Want to learn more?
Contact OilPro at 403-215 3373 or by email at [email protected] and we'll share our "Cold Weather Propane Considerations" paper. It discusses how we made a propane-powered PowerGen work on a mountaintop in 100 km/h winds at -40C weather to reliably provide remote power.