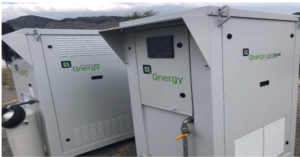 As Canadian distributor for Qnergy's PowerGen remote power generator lineup, OilPro is excited to announce the recent success of the CAP3Nano at the 2023 Edison Awards show in Fort Myers, FL which was held April 19 – 21.
The CAP3Nano was awarded Bronze in the Clean Energy division of the Sustainability category finishing behind an EC motor and battery recycling technology.
The CAP3Nano is part of Qnergy's line up of methane emission mitigation solutions and the Nano is specifically designed for low flow applications.
The Edison Awards are an annual event held since 1987 celebrating innovation and business success in a wide variety of categories. Gold, Silver and Bronze awards are given to the top 3 contestants in each category, denoting the "best of the best" in each case.
Click here to view the complete list of winners including the CAP3Nano's Bronze medal finish.
What CAP3Nano offers
Compact design that is ideal for low flow applications
Up to 3 SCFM continuous dry air output at up to 140 psi
Auxiliary grid-quality output power at 3000W+
Low maintenance robust dual redundant compressors
Integrated air dryer
HMI for local data review and control
Prevents "wet gas" from damaging pneumatic controls
Air flow measurement for mitigation reporting
Eligible for emissions off-setting carbon credits
SmartView remote monitoring of the PowerGen driver on these systems
Can also be grid connected or powered by other backup power sources
The CAP3 Nano package is very affordable if you're in the market for a remote energy solution that is cost effective and reliable, powerful and better for the environment than pneumatic devices powered by pressurized natural gas. 
You can view OilPro's complete PowerGen lineup to see all options available.
The short video below from Qnergy shows the durable PowerGen engine, the heart behind the CAP3, in action and explains the Compressed Air Pneumatics (CAP) process.