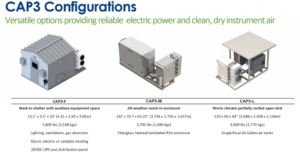 Increasingly, governments around the world require oil & gas companies reduce their methane emissions and lessen their overall carbon footprint.
The Canadian government gives incentives to oil & gas producers to reduce their emissions with initiatives like the Emissions Reduction Fund – Onshore Program. It's not too late to take part in this program but you should act quick so you don't miss out. You can contact OilPro directly to learn more about how to take advantage of this program with a number of application we're implementing with our clients.
Introducing Compressed Air Pneumatics (CAP3)
This is the first in a series of three articles discussing the Qnergy Compressed Air Pneumatics (CAP3) remote power solution distributed by OilPro across Canada.
We'll discuss all three solutions to consider. In this first article we'll focus on the CAP3-F Walk-in Shelter with auxiliary equipment space. We have less-expensive models such as similar performance, external access-M and higher electrical output, smaller air output Nano models available also.
The Compressed Air Pneumatics product line first came to light when OilPro profiled it at the Global Energy Show in 2019.  The product evelved significantly since as you now have three product lines to choose from. Let's focus on the CAP3F for this article.
Why choose CAP3-F for your remote power needs?
Why would you consider CAP3F over the other two options, CAP3M and CAP3Nano? 
Here are the highlight benefits of CAP3F:
Fully housed and skidded walk-in enclosure
Skid edge availability of 11 SCFM of clean dry air
Minimum guaranteed power availability of 1,000W with more when compressor is not running
On-board remote monitoring tied to phone, tablet or desktop
Air metering for simple carbon credit reporting
3 year warranty on engine
HMI panel for quick control and in-building monitoring
On-skid battery capacity can be adjusted for client preference
-40 C capability built-in
On-skid GHT (Glycol Heat Tracing) capability available
Can burn propane or any wellhead gas (with up to 1,000 ppm H2S content)
Here are the specifics.
Qnergy CAP3F standard features from OilPro
| | |
| --- | --- |
| Area class rating | General Purpose |
| Temp rating | -40°C to 40°C (-40°F to 104°F) |
| Skid DIMS | 4.12L x 2.90W m (3.5' x 9.5') |
| Shelter DIMS | 2.9L x 2.9W x 3.05H m (9.5'x9.5'x10') |
| Weight | 3,630 kg (8,000 lbs) |
| Heating | Catalytic (12V external start) |
| Ventilation | Filtered Intake |
| Exhaust fan | Forced Air w/rain hood |
| Enclosure insulation | R20 roof and R12 walls – spray foam under skid |
| Generator technology | Free Piston Stirling |
| | |
| --- | --- |
| Generator power | 5650W |
| Generator voltage | 240VAC 60Hz 3 phase |
| DC UPS | 24VDC 20A |
| Fuel consumption (NG) | 1,300 – 3,964 scfd (38 – 112 m3/d) |
| Gas conditioning unit | Heat traced c.w. LSHH and LSH |
| Control | MicroPLC / 5.7" HMI |
| Communications | SmartView / Modbus TCP |
| Warranty | 1 year CAP / 3 year FPSE (Free Piston Stirling Engine) |
| Certification | CSA / SPE1000 / cETLus |
Qnergy CAP3F Instrument Air System Specifications from OilPro
| | |
| --- | --- |
| Compressor | Tank mount Duplex Scroll STD 0503 |
| Emergency power | Manual Transfer Switch |
| Wet tank capacity | 303 L (80 US Gallon) |
| Compressor CFM*  (high pressure option) | 15.2cfm @ 100psig (12.5cfm) |
| Max working air pressure (high pressure option) | 116 psi (145 psi) |
| Air dryer | Desiccant |
| Air meter | Thermal mass flow meter |
| Maintenance interval | Once a year or less |
Summary
The federal government in Canada gives oil & gas firms incentives to reduce emissions with initiatives like the Emissions Reduction Fund – Onshore Program. CAP3 instrument air systems are an excellent solution.
Want to learn more? 
Contact OilPro at +1 403 215 3373 or contact us by email at [email protected]. We'll help you learn more about how a Compressed Air Pneumatic system combining a low-maintenance scroll compressor with a virtually zero maintenance Qnergy Stirling engine, battery charging and a storage system will not only help your operations team comply but increase runtime while reducing freeze-ups caused by power outages or pneumatic line blockages.
Check out the short video of our earliest model below to learn more about this green energy oilfield solution from Qnergy and OilPro.