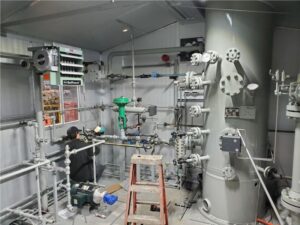 We are set to deliver another large remanufactured glycol dehydration system. This is a 36″ split tower unit which was expertly remanufactured by the experienced pros at Aspire for OilPro.
Buying field-run is definitely cheaper, but anyone that ever did this knows field run dehys often throw curves as trays can be jammed in the top or media trays non-functional and or scaled or plugged, glycol lines plugged, reboilers both unserviceable /dysfunctional and non-compliant BMS systems.
OilPro eliminates these risks by going through the unit from top to bottom. We started with new trays, all instruments and controls we could use were completely rebuilt and recalibrated or replaced so the system would be like new. All small diameter piping was replaced, and the burner management system is brought up to current CSA standards.
At the same time, customization upgrades were accommodated to match the producer's existing equipment closely so operators would be familiar with most components from valves to analyzers.
We also took advantage of the opportunity to upsize the reboiler to provide the customer with additional glycol regeneration capacity.
The split tower means we have a much more easily handled load with the tower base already installed on-skid and piped in.
We've already handed the skid over to the client's own electrical contractor and look forward to delivering it to site shortly.
In spite of a number of component delivery challenges and COVID-related schedule challenges along the way, we managed to stay on schedule and within budget.
Call OilPro at 403 215-3373, or contact us by email at [email protected] for our live inventory catalogue.