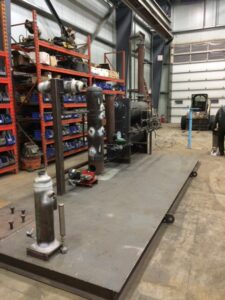 Recently we've noticed more visitors to OilPro.ca searching for information on dehydrators, which we can deliver with short turnarounds.
If you're looking for a glycol dehy, OilPro can assist. We track new surplus and re-manufactured glycol gas dehydration units and offer a warranty with each unit.
Options for dehydrators include a flash gas separator, various electric or pneumatic pump configurations and 8, and more often-chosen 10 tray configurations. Towers and re-boilers are on hand and can be configured to specific project requirements.
By way of an example, here's a special dehydration package (see photo to the left) which was designed for easy export to warm climate for a petroleum school. The unit was built to the same specifications as the one OilPro delivered to SAIT Polytechnic in Calgary Alberta, and has special design features aimed at exposing students at all the different configurations they might find in real-life installations. It has no house and the skid and tower combination is designed to fit inside a standard height 40′ ISO sea container. 
Check out our dedicated page on dehydrators by clicking here to see examples of dehys that we stock. 
If you don't see what you're looking for, drop us a line at 403 215 3373 or by email at [email protected] as we can source and customize what you need.