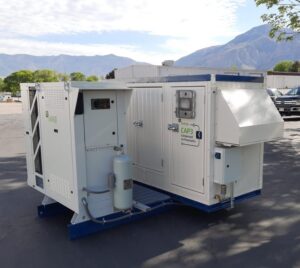 Are you looking for a reliable remote power option that is both cost-effective and easy on the environment?
OilPro is an authorized representative for Qnergy's PowerGen lineup of remote power options. Once you learn about the advantages, it's easy to see PowerGen is your optimal choice for remote power efficiency, cost effectiveness and reliability.
Let's focus on one model in particular, the CAP3 M and why it may fit your remote power needs.
Below we'll see a number of reasons why the CAP3 M offers such a great value proposition.
CAP3 M PowerGen benefits
The CAP3 M is built as an externally accessible system, rather than a walk-in building like the CAP3 F. This makes good sense for a number of reasons.
The M package has exactly the same performance as the F system does.
The M package costs about $50,000 less than the F system.
Walk-in buildings require more safety features for personnel protection.
Due to low maintenance requirements, there is no need for regular access to systems.
A smaller footprint means less money spent on civil works and packaging.
Includes a smaller enclosure which needs less heat, increasing efficiency.
This enclosure needs less permitting.
The robust enclosure is rodent and pest resistant and has easy service access.
CAP3 M PowerGen quick features list
11-15.2 SCFM, 100-150 psi dry, measured air useable at skid edge
5650 Watt Generator with at least 1,000W avaialble, more when compressor not running (typically 2/3 of the time)
-40°C to +40°C rated std.
once a year minor maintenance
Emergency power with manual transfer switch included
optional glycol heat tracing (GHT)
All-weather reach-in enclosure
103″ x 93″ x 69″ (2.6 m x 2.34 m x 1.74 m) dimensions
3,000 lbs (1360 kg) weight
Heated/ventilated R12 enclosure
80 gallon air tank.
Read our complete article on the CAP3 M Qnergy PowerGen from OilPro by clicking here.
You can also see a complete comparison of the CAP3 M, F and Nano models by clicking here.