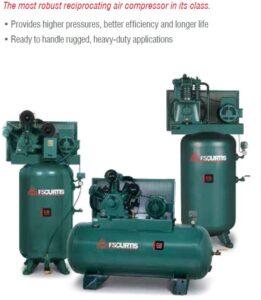 OilPro would like to introduce you to the newest section on our OilPro.ca website dedicated to Instrument Air. This new section will make you aware of instrument air solutions that OilPro offers and can help you implement.
OilPro offers the following air solutions:
New, grid powered turn-key, new (flow rated per CAGI/Pneurop/ISO 1217: Annex C site conditions) and new/used surplus as available.
We specialize in remote location, greenfield and brownfield instrument air solutions with the Qnergy CAP3 systems, powered by the most reliable engine in history, the -40°C cold start rated Stirling engine which runs on any gaseous fuel gas from untreated, dry wellhead gas (up to 1,000 ppm H2S), utility gas, and propane.
Instrument Air Options in Canada from OilPro
In Canada these systems are available in Nano (3 CFM at skid edge + at least 3,000 W): F, (fully housed) and M (external access enclosure) with both M and F models providing 11 SCFM at skid edge + at least 1,000 W).
All systems are certified to your jurisdiction, sized properly (Flow corrected for site conditions, after dryer purge) with technical support including ongoing parts and service from our service partner.
Instrument Air Video from OilPro
Here's a short video illustrating how instrument air can help you solve your remote power needs.