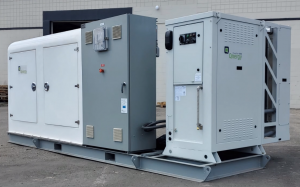 A famous frog once said "it ain't easy being green", and he was right. Those genuinely interested in reducing their total carbon footprint look all the way up a power generator supply chain and thoroughly dissect the fuel and maintenance cost cycle. 
This is how the CAP3 systems came about when OilPro exhibited our system at the Global Petroleum show last year:
A Compressed Air Pneumatic system combination of a low-maintenance scroll compressor with a virtually zero maintenance Qnergy Stirling engine and a battery charging and storage system as seen in the OilPro video below.
Conversion from gas to air pneumatics: The low hanging fruit

"Gas pneumatics are responsible for about 20% to 40% of the gas industry's supply chain in North America," said Qnergy CEO Ory Zik. "And methane is a very potent greenhouse gas at 25 or even 85 times more than CO2, and the gas industry is very sensitive to those methane emissions."
"Pneumatic devices are among the easiest to solve. The same technology that is used for these pneumatic devices can be used when you use compressed air or clean air as the source of power. All you need conceptually is a power generator that compresses the air and replaces natural gas or methane as a source of power with compressed air."
Compressed Air Pneumatics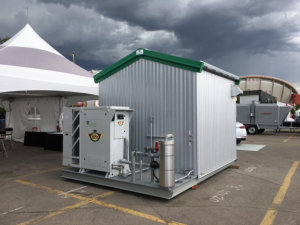 Several of the custom-built systems OilPro initially built in cooperation with our first enthusiastic customer and superb technical support from Qnergy made the dream of a CAP3 a reality.
Now that it is proven through yet another cold Canadian winter and hot summer season.
Utah-based Qnergy since developed three new, engineered, factory-endorsed, warrantied models, the CAP3F, M and L, distributed by OilPro: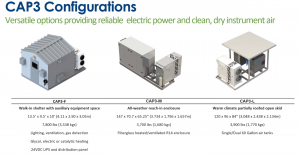 The CAP3-M pictured in the header of this article came about at the urging of OilPro's major international client which already had a positive multi-season experience with one of OilPro's stock PowerGen 5650/GHT (5650 Watt Stirling genset with Glycol Heat Tracing system) over a winter '18/'19 trial (remember the Polar Vortex?).
Per the request, a more compact instrument air solution began development called the CAP3-M in cooperation with OilPro's original packager of the CAP3-F, the competent Central Air Equipment.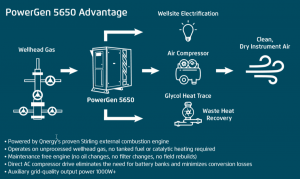 More compact, and less costly, this CAP3-M model paves the way to even better economics for instrument air systems fueled by on-site available unprocessed, dry fuel gas. (a fuel gas scrubber is all that we require). We are excited to see this unit deployed at our client's site after rigorous in-house testing.
Significant Funding Accelerates Adoption
Analysis of low emissions gas-powered pneumatic solutions led a consortium of progressive energy producers to Qnergy's doorstep and precipitated an investment of $10 Million US. Funding from OGCI (Oil and Gas Climate Investments) accelerate Qnergy's ability to deploy the CAP3 (Compressed Air Pneumatics) systems OilPro already delivered throughout 2019 and 2020 to a number of each of OilPro's Canadian producer clients.
Such a ringing financial endorsement speaks louder than 10 competitor "finalist awards". Sam Gabbita, OGCI Climate Investments venture director, said Qnergy's technology was appealing to the fund because it offered low-cost and reliable energy that can be applied at scale across much of the industry….
"We liked the fact that there was established technology, and we loved the fact that we could use this established technology to decarbonize an important part of the oil and gas value chain."
Conversions of wellhead gas pneumatics to compressed air pneumatics should not be dismissed easily as motivated by subsidies. Carbon credits are supported on a legitimate carbon trading platform in a market (not a tax system) where buyers and sellers meet. Subsidies do accelerate payouts and Alberta's move to remove the Carbon Credit Protocol expiry make it all the more attractive with paybacks to producers now extending to over 8 years!
Many producers are already cashing monthly cheques for their early mitigation efforts such as replacement of high bleed to low bleed instruments and controls, and we expect the number of adopters to increase quickly as it can be financially positive proposition.
Why CAP3 System Fits all Locations
Cost is similar or lower and feature count is higher vs dated hybrid reciprocating engine/compressor system designs relying on more field input, more maintenance and Propane backup.
Designed for 100% duty cycles, yet can easily perform stop/start duty and is built to be load-following for additional fuel savings with a linear efficiency curve and no "wet stacking".
Can run on any combustible gaseous fuel, including sour gas.
Captures waste heat for up to 1,500′ of glycol heat tracing with a programmable return temperature, ideal for remote rich fuel gas systems in cold weather.
TCO (Total Cost of Ownership) is lower, and improves with use over time.
Engine built for 80,000 hrs (10 years) of continuous run time, with test units now exceeding 14 years, making 8 year economics even more attractive.
Cold start capability.
Can be left alone in very remote locations and cold started in -40°C no problem for 24/7/365 reliability. (and operates reliably in +40°C desert climates also).
We make the air, you take the credit
Measures such as the AER Directive 60 and 017 in Alberta and Emissions Reduction calculations in BC accelerate the "decarbonization" of the energy supply chain. (BC requires no venting on greenfield sites starting in 2020). Customers of CAP3 systems successfully focus their capital on an optimal mix of economics and Carbon mitigating results using the ERR (Emission Reduction Ratio) concept. OilPro and Qnergy are not aligned with aggregators as we believe our producer-customers know which solution is best for them.
NOTE: We are happy to provide a list of qualified aggregators, but some also do this work in-house as there can be good bottom-line revenue at stake.) Ideally we like to see as many dollars ending up in the producer's pocket, where they belong.
While others are busy trialling 50% duty hybrid equipment with part-time duty design internal combustion engines, part-time duty fuel cells or thermoelectric generators, OilPro and Qnergy already delivered 100% duty cycle tested equipment with a minimal up-front cost, continued TCO benefits, best-in-class operator friendliness while delivering reduced GHG emissions and increased overall wellsite reliability.
It's a better and greener solution when you don't have to service the engine at all; don't have to replace fuel cells and don't have to replace TEGs that fail or freeze in the middle of winter. No rushed cold weather fixes means less downtime. No special fuel means a lower overall carbon footprint. Use of your own wellhead gas is as close to "buying local" as it gets. Load-following means fuel is only used as needed. Unlike ICE gensets, PowerGens are efficient throughout the load range.
PowerGen By Qnergy
Qnergy just delivered its 500th Stirling Engine PowerGen, and expanded their lineup to include 600, 1200, 1800 and 5650 Watt options competitively priced with all other 300 W + remote power solutions yet more efficient and longer lasting. Each model is available with a glycol heat tracing option and is load-following.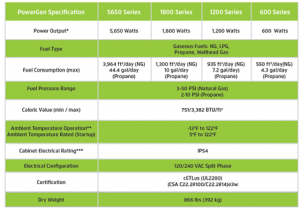 One of the earlier similar OilPro custom systems currently powers 32 wellheads and two test separators. What can we do for your bottom line, carbon mitigation measures and site reliability?
While you mull that over, take comfort knowing carbon credits created in Canada support a local economy! Maybe it's easy being green after all.
Call the original CAP3 experts at OilPro at 1 403 215-3373, or visit our dedicated PowerGen page to learn more. Don't forget to ask about the newest Qnergy PowerGen from OilPro configuration, the CAP3-Nano, too.