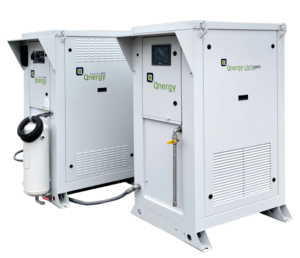 In our last article we discussed the CAP3-M remote power configuration in detail. Previous to that, we talked about the CAP3-F Walk-in Shelter with auxiliary equipment space.
In this third and final article, we'll focus on the CAP3-Nano configuration for your remote power needs.
Introducing Compressed Air Pneumatics (CAP3)
The Qnergy Compressed Air Pneumatics (CAP3) remote power solution is distributed by OilPro across Canada. In this third article we'll focus on the CAP3-Nano which is the newest configuration available.
We also have models such as the similar performance, external access CAP3-M and CAP3-F with fully housed and skidded walk-in enclosure.
The Compressed Air Pneumatics product line first came to light when OilPro profiled it at the Global Energy Show in 2019.  The product evolved significantly since as you now have three product lines to choose from. 
Why choose CAP3-Nano for your remote power needs?
Similar to CAP3-M model
No on-skid battery capacity required due to use of direct drive AC compressor
3 scfm capability
Increased power of 3,000W capacity
-20°C capable, so best suited to installation inside customer building
GHT option available
The Nano compressor will need to be housed inside any "General Area" classified building that you can keep above -20C, and can then be hooked up to a -40C capable PowerGen, which can be placed outside in any general purpose classified area.
The Nano is essentially the same proven and robust cabinet as what we use for the PowerGen with the same footprint but repurposed for compressor duty.
Speaking of your carbon footprint, check out our article on determining your carbon footprint and also then reducing it by clicking here.
When you use a PowerGen to make grid-quality electricity, you have plenty of gaseous fuel sources to choose from including Natural Gas, LPG, Propane and wellhead gas so no tanked fuel or catalytic heating is required.
CAP3-Nano With PowerGen 5650 
When paired with the PowerGen, a CAP3-Nano Compressed Air Pneumatics Skid Package incl. PowerGen 5650 offers a minimum 3,000 W of electrical power when the compressor is at maximum output.
With an ambient temperature operating range of -20C to 50C (-4F to 122F), it's the perfect cold-weather option for the harshest Canadian winter Mother Nature brings.
 
Qnergy CAP3-Nano standard features from OilPro
Generator Design Life
10-15 years
Fuel Type
Gaseous Fuels: Natural Gas, LPG, Propane, Wellhead Gas
Area Classification
General Purpose (non-hazardous)
Fuel Pressure Range
2 – 50 PSI (Natural Gas), 2-10 PSI (Propane)
Ambient Temperature Operation
-20C to 50C (-4F to 122F)
Cabinet Electrical Rating
IP54
Electrical Configurations

120/240 VAC Split Phase

Output A: 120 VAC 60Hz

Output B: 120 VAC 60Hz

Electrical Configurations "B"

120/240 VAC 2 Phase

Output A: 120 VAC 60Hz

Output B: 120 VAC 60Hz

Certification

cETLus (UL2200) 

(CSA C22.2#100/C22.2#14)e3w

Dry Weight
391 kg (866 lbs)
 
Generator (PowerGen Option)
| | |
| --- | --- |
| Model | CAP3-Nano Compressed Air Pneumatics Skid Package incl. PowerGen 5650 (-20C) |
| Maximum Output Power | 4.3 or 5.6kW |
| Min. electrical power available while compressor is at max. output | 3,000 W |
| Max. Fuel Consumption (natural gas) | 112m3/day (3,964 ft3/day) |
| Min. Fuel Consumption (NG), Running, assuming max. turn-down to 1800W | 36m3/day (1,300 ft3/day) |
| Stop/start fuel/emissions saving capability without wet-stacking issues. | Yes |
Air Compressor
| | |
| --- | --- |
| Type | Direct AC Compressor |
| Capabilities | up to 3 scfm @ 140PSI |
| Auxiliary AC Power | 3000 W / 240 VAC at a flow rate of 3 scfm @ 100 PSI |
Skid Dimensions
Dimensions
TBC: two of 69.4″ L x 28.1W x  57.2″ H on 32.75″ W c/c bolt hole foundation each cabinet
Enclosure type
PowerGen enclosure
Insulation
None
Doors
4 double access panels. Two controls doors.
Ventilation
Non-Gravity louvres
Additional items

Flow monitoring & summary directly to the HMI display.

Micro PLC / 7″ HMI with UV rated Cover.

Air flow meter.

Package flow meter w/summary display for volume of air produces in operation (tbd mv +tbd %Fs, Full scale is tbd CFM).

Modbus communication from PowerGen only.
Summary
The federal government in Canada gives oil & gas firms incentives to reduce emissions with initiatives like the Emissions Reduction Fund – Onshore Program. CAP3 instrument air systems are an excellent solution.
Want to learn more? 
Contact OilPro at +1 403 215 3373 or contact us by email at [email protected]. We'll help you learn more about how a Compressed Air Pneumatic system combining a low-maintenance scroll compressor with a virtually zero maintenance Qnergy Stirling engine, battery charging and a storage system will not only help your operations team comply but increase runtime while reducing freeze-ups caused by power outages or pneumatic line blockages.
Check out the short video of our earliest model below to learn more about this green energy oilfield solution from Qnergy and its Canadian Distributor, OilPro.