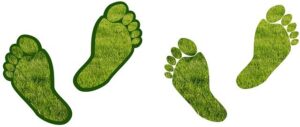 Can you tell what your company's carbon footprint is and what you can do to reduce it?
The problem with traditional gas pneumatic devices is that they vent methane, a significant contributor to greenhouse gas emissions.
Solar comes to mind right away, but if we do the work of calculating the actual amount of solar panels and infrastructure to reliably provide an all-solar or hybrid solution with the same level of power what is the ultimate carbon footprint of this system and its components?
Furthermore, what is the cost of downtime both in GHG emissions and real terms of such frequently unreliable and vandalized solar battery and hybrid systems? After all every time an ESD causes an upset condition a lot of gas goes to flare.
As we'll see below, determining a company's total carbon footprint can be difficult, but determining which is the cleaner alternative solution is equally challenging.
OilPro strongly supports Qnergy as a solution offering the lowest total carbon footprint solution for remote, northern power applications.
"Pneumatic devices powered by pressurized natural gas are widely used in the natural gas industry for process control and chemical injection. These devices vent spent gas directly into the air, threatening the clean fuel advantages of natural gas. Qnergy's innovative low-maintenance CAP3 solution efficiently combusts a fraction of the normally vented methane, while economically providing reliable electric power and clean, dry instrument air."
Why consider Qnergy PowerGen remote power solutions from OilPro?
Let's take a closer look below.
Can you estimate your company's carbon footprint?
Check out the short video below called "The 'Convenience' of Carbon Ignorance" to learn more about how to estimate your carbon footprint and how you can address it with benefits to you.
An introduction to Qnergy PowerGen remote power benefits
Here's Qnergy CEO Ory Zik discussing how Qnergy's PowerGen came about and how it helps to not only reduce your carbon footprint but also more compressed air at skid edge from a turn-key engineered, environmentally-friendly option.
Ask us how the CAP3-F and M are capable of powering up to 32 well pads + two separators at the same site, providing reliable dry instrument air as well as plenty of power to charge batteries and power electric heat tracing with minimal fuel consumed.
Processed fuel gas or trucked in propane is not required; a fuel gas scrubber upstream is all that is required.
PowerGen Benefits
Efficient power vs conventional, less-efficient energy sources such as ICE (internal Combustion Engines)
Electric power in addition to pneumatic air power
Glycol Heat Trace (GHT) system captures waste heat turning system in to micro CHP (Combined Heat and Power) system with 70-90% overall efficiency
Minimizes fuel conditioning and maintenance requirements with commensurate lifetime carbon footprint reductions
CAP3 Benefits
Instrument air vs 24 x greater polluting methane instrument pneumatics
All the same benefits as freestanding PowerGen offers (600, 1200, 1800, 5650 Watt versions available)
If you'd like take a step back and learn more about our CAP3 offerings, click here for a full explanation.
Questions? Can't find what you're looking for or need a quote?
Call OilPro at 403-215-3373 or email us at [email protected].
One final comment: It's not too late to take advantage of the Canadian Government's Emission Reductions Fund and OilPro can help!