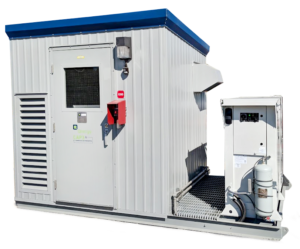 Compressed Air Pneumatics or CAP3 from Qnergy and OilPro is an air solution that was designed to displace the methane emission typically associated with pneumatic devices.
While traditional devices release methane gases into the air, the CAP3 helps you meet and exceed local methane regulations and help the environment. 
"Pneumatic devices powered by pressurized natural gas are widely used in the natural gas industry for process control and chemical injection. These devices vent spent gas directly into the air threatening the clean fuel advantages of natural gas. Qnergy's innovative low-maintenance CAP3 solution efficiently combusts a fraction of the normally vented methane, while economically providing reliable electric power and clean, dry instrument air." Source: Qnergy
Why should I reduce my methane emissions?
Methane is considered toxic by the Canadian Environmental Protection Act. Considering oil and gas producers are responsible for almost half of the country's methane emissions, the federal government has introduced regulations to reduce these emissions. 
With this in mind the Canadian government has set the following goal:
"The Government of Canada remains committed to reducing methane emissions from the oil and gas sector by 40 to 45 percent below 2012 levels, by 2025."
The new regulations are expected to save Canadian oil and gas companies $1 billion in lost hydrocarbon gas between 2018 and 2035.
CAP3 can help oil and gas companies work towards these savings in a number of ways.
Let's take a closer look at a variety of benefits that CAP3 offers you.
CAP3 benefits
The top benefits of the CAP3 as mentioned by customers include:
Highly reliable Stirling non-reciprocating engine. 
Hydrogen sulphide (H2S) sour gas capability.
No solar hybrid complexity. It's plug and play.
Continuous unattended operation so no extra staff are required.
No UPS or oversized batteries are needed as the load-following PowerGen provides 24/7float charging.
Gas conditioning is included.
24/7 remote monitoring with SmartView.
3-year engine warranty.
No tanked fuel required with multiple fuel options available including natural gas, propane, ethane or biogas.

Use of on-site wellhead gas the entire carbon footprint of fuel delivery can be eliminated.

A zero oil change and zero maintenance engine.
Learn more about how CAP3 can solve most onsite pneumatic challenges
Want to learn more?
Check out this OilPro case study for a recent CAP3-M install to learn more about specifics and how it can help you solve your air pneumatics while being better for the environment than traditional methods.
You can also learn about the recent CanERIC showdown that Qnergy and OilPro took part in that put PowerGen head to head against top competitors.
Alternatively you can call the original CAP3 experts at OilPro directly at 1 403 215-3373 or visit our dedicated PowerGen page to learn more.