The Problem
Canada's largest gas production company had amine and glycol carry-overs liquids from their process towers. Industry practice accepts a loss of ~3 lb /MMSCF (2 × 10-4 kg/Nm3 ), but greater losses become a significant cost burden.
Conventional treated gas after-scrubbers are recommended, but often not installed, or don't function well, and cause a pressure drop.
Liquids in gas streams mean:
Significant chemical costs are incurred replacing glycol or amine chemicals
Sales gas is off-specification, causing penalties or shut-ins
Downstream compressors require further liquid removal or fail frequently
Background
Amine units and glycol dehydrators continually regenerate the active chemicals in a circulation loop with a pump, de-gas fluid in a flash tank and then re-purify the chemical in a reboiler. The towers operate at 800 to 1,000 psig with a gas flow between 37 to 70 MMSCF/d. For such a system, acceptable minimal chemical losses are in the 111-210 lb/d (50 -90 kg/d, or ~44-80 l/d).
Systems this size, operating within acceptable parameters re-circulate between 450 US Gallons/hr (1700 liters/hr) or more.
Identified Issues
Downstream equipment repair costs and downtime were unacceptable.
Chemical losses were unacceptably high.
Disposal costs of lost chemicals contaminating produced fluids added more cost.
Off-specification gas caused complaints from downstream customers.
The Solution
Small footprint 6" & 8" inside diameter non-piggable versions of Innopipe flanged in downstre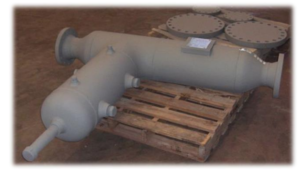 am of the towers and achieved carried-over chemical recovery of 99%. The chemical was circulated back to the reboiler.
Capturing the same volumes using conventional separators would have required vessels in size ranges from 54" dia. to 60" dia. with special internals such as coalescing elements.
The producer was able to save 60% of budgeted vessel costs versus conventional vessels, and was able to install during a scheduled plant turnaround due to our quick delivery capability.
Vessels were delivered within 8 weeks after drawing approval. The producer resumed high volume production.
Pressure loss across the Innopipe units was minimal with no additional boost required.
Innopipe Sizing And Capacity Chart

Other Liquid Recovery Applications Refineries
Refineries see gas compositions with a lot of contaminants which require costly additives to process. Recovery of otherwise lost specialty chemicals has an immediate impact on the bottom line.
Screw, vane and other compressors: Innopipe recovers liquids downstream of any high gas flow/ low liquid process with minimal pressure loss. (This link displays examples and specs of Innopipe installations we've built).
To see if we can assist in the recovery of lost liquids from your gas process streams, please provide the following to us and es can get started:
Equipment location
Liquid Flow Rate
Gas Flow Rate
Design Pressure
Liquid Specific Gravity
Gas Specific Gravity (or composition)
Operating Pressure/ Design Pressure
Design Code (ASME, API, GOST, other)
You can also contact OilPro directly at 403-215-3373 or by email at [email protected] too. You can also visit Innopipe's website to learn more about this piggable drip system.