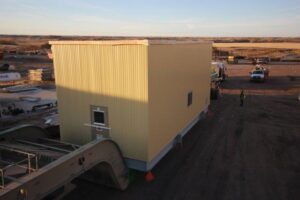 Pressure vessel overview
Pressure vessels store liquids under high pressure and come in a wide variety of sizes for varying uses. While you can customize a pressure vessel to suit the application, it is important to realize that modifying existing vessels adds a lot of time and expense.
OilPro has taken additional steps to design their vessels to be easy to modify to suit a process from highly variable 3 phase well-testing to simple continuous 2 phase operations. without slugging or upsetting equipment upstream or downstream of your separator.
OilPro's stock horizontal designs incorporate the following standard features:
Removable internals
All flanged design
Sour service considerations
When vessel diameter allows for enough gas disengaging space, multiple mist extraction designs are made available (i.e. vane packs vs. std. mistex vs multi-layered options)
Nozzle inside diameters sized to provide maximum flows for gas and liquid phases while leaving room for reduced piping.
No liquid traps
Nozzles locations optimized for maximum layout, controls and layout flexibility
For tight budgets or timelines, we are also experienced in repurposing existing vessels using ASME Sec. VIII-Div.1-approved vessel modifications where required such as:

process vessel to Flare Knockout Drum
Separator to Free Water Knockout
Process vessel to Slug catcher
Heated treater or FWKO to cold separator with blanked connections.
2 phase to 3phase conversion
adding externally caged High Level Shutdowns or Crash Dump controllers
Changing/replacing drain/water outlet piping configurations
installing Involute or other inlet deflection systems
installing coalescers for improved efficiency
reconfiguration of internal mistex sections/vane packs
installation of erosion pads.
integration/refurbishment with electrostatic systems
Let's take a closer look at horizontal pressure vessels including recent projects that we've completed for our global customers.
What are large horizontal pressure vessels?
We typically refer to horizontal vessels as large such as the installed example shown below.
Here is a Harvest Bilbo separator which shows what a 100,000 lb 8′ x 20′ separator looks like once housed.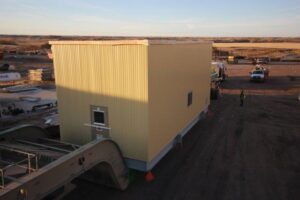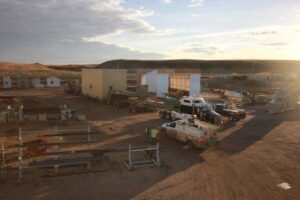 In North America, large pressure vessels tend to be 42″ through to 12' in diameter and between 12' and 80' seam to seam long. OilPro specializes in vessels ranging from 8″ diameter through 36″ in vertical sizes, and 36″ through 120″ diameter for horizontal vessels.
When you add for the heads and outer housing, they can get quite massive, and while process design typically dictates orientation, choosing horizontal vs. vertical can have significant logistics cost implications.
Below is an example of a custom, modified used 8' x 30' surge vessel recently installed. It was considerably lighter due to lower pressure design but equally long to ship, something OilPro has significant experience doing for customers globally.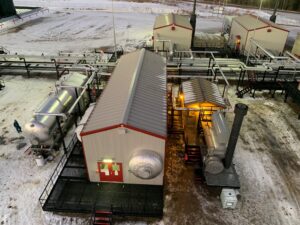 Summary
If you're looking for customized pressure vessel solutions, OilPro has the experts to assist your engineering, electrical, instrumentations and process teams. We have experience building and shipping a wide variety of vessels globally and across North America to a variety of environmental specifications.
Visit our separators and miscellaneous pages to learn more. You can also call us directly at +1 403 215 3373 or contact us by email at [email protected] for more details.