We've already discussed how companies and investors are becoming more aware of Environmental, Social and Governance performance metrics. Governments increasingly require methane gas-producing companies to reduce their emissions and some are even incentivizing them to do so. 
The question is, how?
Many facilities have multiple methane sources from pneumatic devices. Solutions that address the issue are often complex, expensive and difficult to install. Many are also unreliable and untested.
What would you say if we told you that OilPro offers a solution that is simple and easy to install, cost effective and tested? It's also very flexible, works in all weather conditions and is especially designed for remote locations?
Introducing Compressed Air as a Service (CAaaS). CAaaS eliminates methane emissions with no CapEx using a simple and proven solution called CAP3 from Qnergy and OilPro which we'll discuss in more detail below.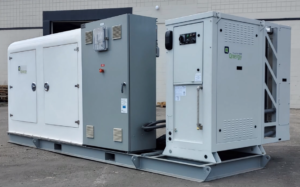 The problem that CAaaS addresses
The energy industry faces unprecedented pressure to reduce operational methane emissions. Facilities have many small emission sources from pneumatics and most solutions are costly and require complex planning, installation and maintenance to work reliably. Available solutions are also labour intensive, unreliable and untested.
Simply replacing the gas pneumatics with air pneumatics takes care of the facility's emissions and maintains equipment the operators are familiar with, increasing uptime.
CAP3 pneumatic systems are less conspicuous than solar systems with large battery banks, making them less vandalism/theft prone.
CAaaS is a simple utility-style agreement with an activation fee and pay-as-you-go for metered air and electricity. CAaaS is:
Proven in Canada's challenging climate
Flexible, minimizing cost of ownership
Simple to install and operate with minimal complexity or maintenance
Perfect fit for remote sites with existing pneumatics
Generates emissions offset credits to pay for this service in Alberta (additional credits available in other provinces call us at 403-215-3373.
While CAaaS is a concept, the name of the solution that incorporates it is Compressed Air Pneumatics (CAP3) from Qnergy and OilPro.
CAP3 benefits from actual customers who use it
The most common benefits that Qnergy notes from customers who have the CAP3 solution are as follows:
High reliability and lack of reciprocating engine.
Continuous unattended operation with 24/7 remote monitoring.
H2S sour gas capability.
No UPS or oversized batteries required.
A 3-year engine warranty on its highly reliable Stirling engine.
No solar hybrid complexity to worry about.
Gas conditioning included.
No tanked fuel required.
An engine that requires zero oil changes and zero maintenance for continuous operation.
The CAP3 (Compressed Air Pneumatics) concept
Here's a diagram to visualize how the CAP3 solution works.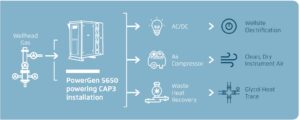 We've also written a more detailed overview on what CAP3 entails and the benefits that it offers as well as the CAP3nano from Qnergy and OilPro.
You can also get the Compressed Air as a Service Whitepaper from Qnergy by clicking here. 
Compressed Air Pneumatics (CAP3) components
The Compressed Air Pneumatic (CAP3) includes:
11 scfm continuous air output at 100 psi (60+ scfm available and 145+psig options)
Low maintenance robust duplex compressors
Integrated air dryer
HMI for local data review and control
Eliminates "wet-gas" pneumatic issues
Gas flow measurement for mitigation reporting
Eligible for emission offset carbon credits
Gas Conditioning Unit (GCU), protects against liquids in gas inlet
Smartview remote monitoring
Here's a short video we put together that describes the Compressed Air Pneumatics (CAP3) solution OilPro offers to give you the green energy oilfield solution you need.
Call us directly at 403 215 3373 or contact us by email at [email protected] for more details and to discuss how Compressed Air as a Service can benefit you.
You can also learn more about reducing your carbon footprint and four specific ways to accomplish this with remote power.